Local Business SEO Optimization
Get your business found in local search results!
If you are a company that deals primarily with the local community, optimizing local businesses SEO is for you. Search Mountain is an expert in the field of local SEO and Google My Business internships.

What is the value of local SEO?
Consider the following example for the search query "Plastic Surgeon Toronto"."
The result of this search is a so-called "local package". These search engine results are very different from the regular 10 blue links we normally see. The results of local packages often include a tag, an address, a phone number, and ratings.
Here is an example of a local pack of seven for the term "Plastic Surgeon Toronto":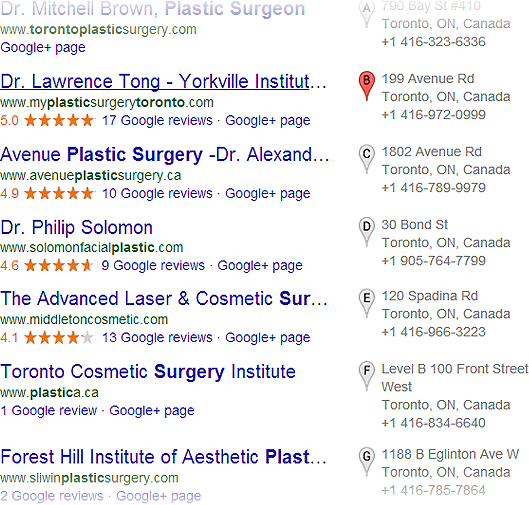 Local business advertising delivers highly targeted results
Search Mountain will implement a number of factors that determine how a site organically ranks in local listings. Factors such as the location of the searcher, NAP (name, address, and phone number), how relevant your company is to finding your site, how well your site is optimized, and most importantly, how accurate your address information is on the Web are taken into account by Google and Search Mountain takes control over it.
What is NAP?
NAP stands for name, address, telephone number. The NAP consistency is very important for strong local listings. Google retrieves this information from the internet and uses it to get an accurate list of your company.
We ensure that your website, listings and NAP citations are optimized to maximize visibility in search results.
We have been experts in local search engine advertisements from the start. From Google Places, via Google+ Local to Google My Business, Search Mountain knows what local advertising is all about.

Interested in learning more about how Search Mountain can improve your
website's Local Business Optimization? Feel free to reach us at
416-855-2085, or Contact Us!
FREQUENT QUESTIONS
Why is Local Business Advertising (Google Local) a monthly service?
Our team is working on creating monthly recurring quotes to help you find your listings in popular directories. What exactly does it do? It strengthens the position of your local listing and makes your local business listing more powerful than ever.
What is the difference between Google Places / Google+ Local and Google My Business?
Google Places (or Google+ Local) are the old names for Google My Business. It helps potential customers find you and enables the public to value your services and products according to a five-star system. Google My Business has gone one step further by providing tracking statistics to help you keep track of your local listings.
Why is Local Business Advertising a different service than SEO? Do I need both?
Local corporate advertising also reinforces your presence on online marketing. Our team builds your SEO as a ranking signal for Google, but the acknowledgment and cleanup that we do with your local presence also help you maintain a good reputation with these companies!
What if I have more than one location?
If you have more than one location, our Google My Business experts can set up multiple listings to ensure that each location is optimized and easily searchable online.